Throwaway Batteries: Buying What We're Sold
© 2009 by SocioEconomics, Inc.
by Ranger Kidwell-Ross
Occurring throughout the last half of the 20th century to the present has been a constant interplay between companies and consumer psychologies. When companies are first formed, the typical goal is to fill a perceived consumer demand niche in the most cost-effective manner possible.
New, rising industries fill emerging consumer desires. An example is the rise of the fast food industry to help alleviate the time constraints of two-party working parents. Meals' procurement suddenly became quick and easy in a gleamingly new way. The problem of "what's for dinner" became solvable by a quick stop on the way home from work.
However, as time passes do companies continue to maximize the benefit(s) we receive for the dollars we spend? Using the same example, now the U.S. has become a culture largely addicted to an alarmingly high calorie intake saturated with salt, sugar, fats and trans-fats. Although the 'fast' portion continues to benefit the consumer, health experts increasingly question the viability of what passes for 'food.'
As we have shown occurs with socio-economies, in the business world what was once a 'pure' vision can turn into a 'corrupted' mania designed primarily for continued existence and profit. Maximizing benefits to consumers often appears not to matter. Now, in the end game of our declining Little King, consumer-based economy, the record is clear that the actions of a wide range of companies are far from beneficial, to their individual customers, their stockholders or to society as a whole.
Over time, the consumer is the loser in business' constant quest for ever-better margins. Once a brand is established and a loyal following in place, company quality often erodes in the form of increasingly poor quality, service, etc.
Change in technology is also often the enemy of established companies. New and better technologies, materials and production methods are constantly developed by new players in the market. However, established companies are not going to be the ones to inform you that a better product now exists elsewhere… As is shown in the example below, this may be the case even when existing well-known companies offer both the new and the old technology in their product lines.
The rest of this article focuses on the consumer battery industry. In addition to their well-established alkaline type, all of the major battery makers (Duracell, Eveready and Ray-O-Vac) also produce nickel metal hydride (NiMH), rechargeable batteries. However, since NiMH batteries may be used many times before disposal, there's no economic incentive to the manufacturers to promote this product over their throwaway lines. Although an NiMH version of a battery offered by the same company may be many more times a better value than its alkaline counterpart, because of lack of advertisement and education that fact remains largely unknown to consumers.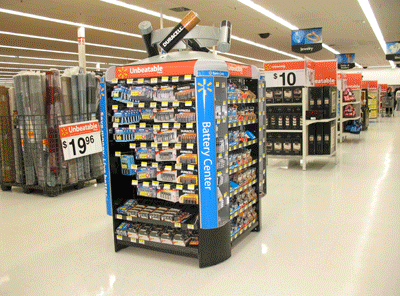 If you comparison shopped at Wal-Mart, America's biggest retailer, you would learn that AA-size alkaline batteries, when bought by the dozen, would run about $.40 apiece. Nickel metal hydride rechargeables are about four times as expensive, at about $1.50 each.
One might presume this large price differential is why the display carousel for alkaline batteries that you see to the right, which featured a wide selection of brands and sizes of batteries, was located in the most central, highly trafficked crossway aisle of the store. The NiMH rechargeable battery display you see at the lower left was, by contrast, located toward the back of the store at a dead end aisle.
I asked about this disparity, and was told essentially the same thing by two clerks: "People want the cheaper batteries." I have no doubt that's true. But, are Wal-Mart and the battery manufacturers actually pushing consumers to the overall cheapest solution? Or are they, rather, marketing their replaceable alkaline batteries the company management knows we'll have to come back and purchase over and over?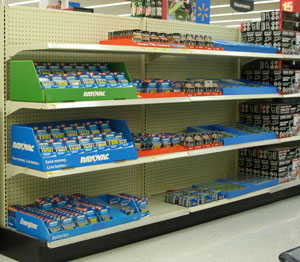 I recently bought a new Canon digital camera. In the instruction manual, I learned that the four AA alkaline batteries supplied with the camera would last for an average of about 340 photos. By contrast, the instructions informed me that if I replaced the alkalines with four NiMH rechargeable batteries I'd get about 600 photos, or about a 75% increase.
Doing the math, that makes the actual effective cost of each of the alkaline batteries almost twice as much, or around $.75 apiece. So, the NiMH batteries were actually only about twice the effective cost of alkaline batteries in this usage. Still quite a differential. But hold on…
As a responsible capitalist, I want to purchase the batteries with the least overall cost at the register only if that's also the lowest actual cost when all the other factors of production and disposal are taken into account. In this case, the raw materials cost for the alkaline batteries would also be about double, since each of them only gets a little over half the battery life of a corresponding NiMH battery. It also stands to reason that whatever the pollution and energy costs are to make each alkaline battery, that's about twice as much, too, since nearly two alkalines must be made for the energy usage value of one NiMH battery.
There's more: The shipping weight per, in this case, 600 camera shots, is almost doubled, as well, as is packaging, wholesaler delivery cost, store display space and no doubt a few other factors. With these true cost factors taken into account the AA NiMH rechargeable battery, which started out four times as expensive as its alkaline counterpart, is starting to look like a real bargain to any responsible capitalist. Yet we haven't gotten to the most telling part of the story…
After use, each alkaline battery gets added to the landfill pile, where a percentage of them will contribute to pollution. By contrast, the NiMH manufacturer states that up to 1,000 recharges are available for its battery. Even cutting that estimate in half, to 500 recharges, the cost per usage for an NiMH battery becomes about $.003 per usage (plus the relatively minor overall cost of electricity for recharging and a one-time cost of less than $20 for a charger).
Without including the extra production, materials, shipping, environmental or disposal costs for the alkaline battery–or, on the other side of the equation, the cost of recharging the NiMH battery–the effective cost of each AA alkaline battery appears to be about 250 times more than an NiMH battery when used in a camera.
If so, there would appear to be a host of social, environmental and consumer-related reasons why every battery advertisement we see and hear should tout the value of NiMH rechargeables. If companies are, indeed, promoting products that offer consumers the best value, then Wal-Mart and other retailers should be actively advertising that we should all buy rechargeable batteries. However, have you ever even seen an advertisement for a rechargeable battery? Me, either.
Socio-Economic Theory indicates the U.S. is in the end game of the Little King consumer economy. "What's in it for Me?" is running rampant. Signs of business and economic excess by both the business community and consumers are everywhere. The above is just one example. I challenge you to think of others and post them on our discussion forum at Predicting2020.com.
The fact is that many companies do not serve the best interests of their customers or our greater good, any more than their little king consumer customers purchase items that bring them lasting value and satisfaction. Marketing, like consumption, has become a self-fulfilling mania. Fortunately, overt clashes are now occurring with the rising, much more caring values of Responsible Capitalism. On the downside, the above types of scenarios are endemic throughout our entire economic system, so they won't play out in just a year or so.
Since 1790, there have been three previous seasons of depression in the United States, what we at SocioEconomics, Inc. have coined 'schizomania.' Each has lasted for about 25-30 years and, because of the widespread economic disarray created during these times, each has included at least one actual depression. Our current season of depression began about 1990. That's why, if history since 1790 repeats itself once again, the likelihood for depression in the U.S. is substantial until about 2020.
Only through widespread understanding of what is occurring in this shift from one socio-economy to another can we minimize the likelihood of depression. Only by working together to move quickly from the failing "What's in it for Me?" socio-economy to the new reign of Responsible Capitalism and all it stands for, can we lessen the impact of the shift from one to the other. Otherwise, expect it to take until about 2020 for the natural shift to occur.
Ranger Kidwell-Ross is President of SocioEconomics, Inc., which provides information on the long-term socio-economic trends first developed by company founder, Dr. Jack Lessinger. For more information, including links to books as well as free audios, videos and other articles on this and related topics, go to www.socio-economics.com. Kidwell-Ross may also be reached via email sent to ranger@socio-economics.com.
This article may be reprinted in its entirety as long as the preceding paragraph is left intact. As a courtesy, please notify upon usage by sending an email to ranger@socio-economics.com.